Special features:
Components that are RoHS-compliant contain no dangerous substances such as lead or cadmium. EC Directive 2002/95/EC (RoHS 1) restricts the use of certain substances in electronic devices and components. These include batteries, etc.
All substances are registered according to the REACH regulation. REACH (Registration, Evaluation, Authorisation and Restriction of Chemicals) ensures that users have accurate information on the type and properties of operating materials, lubricants, etc. that they might come into contact with.
Components with this symbol meet the requirements of IEC 61340-5-1 and are therefore suitable for use in EPAs (electrostatic protected areas). By complying with the further stipulations of this standard you can use these products to create a safe environment for handling electronic components.
Property
black similar to RAL 9005
Downloads
Technical documentation
(844 KB)
Videos
item Interlinking work benches ST
Today, flexible, cost-effective and ergonomic work benches are more important than ever in the value-added chain. The new item components for equipping and interlinking work benches are both modern and versatile. And a solid investment for the future!
Applications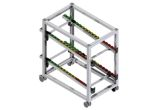 Shelf trolley with roller conveyor - Article EX-01042
Shelf trolley made from item components – outside grooves closed for easier cleaning, coloured roller conveyors on inside.
More information
Applications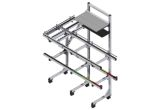 Work bench interlinking with return - Article EX-01046
For the straightforward interlinking of working processes with a rapid flow of materials.
More information
Applications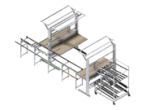 Work bench interlinking - Article EX-01080
This work bench scenario is one example of how three workstations can be interlinked using an integrated material picking rack. Production parts move rapidly along roller conveyors between work benches to precisely where they are needed.
More information
Classifications
Classifications are industry-wide product data standards that are used, among other things, to support structured processing in ERP and e-business systems. Do you need the classification data for all item products for your e-procurement system? If so, please don't hesitate to contact us.
customs tariff number
39174000