Special features:
Components that are RoHS-compliant contain no dangerous substances such as lead or cadmium. EC Directive 2002/95/EC (RoHS 1) restricts the use of certain substances in electronic devices and components. These include batteries, etc.
All substances are registered according to the REACH regulation. REACH (Registration, Evaluation, Authorisation and Restriction of Chemicals) ensures that users have accurate information on the type and properties of operating materials, lubricants, etc. that they might come into contact with.

Strong backing for back-friendly solutions – item becomes the first and only manufacturer of industrial work benches to receive the AGR seal of approval. This means our Work Bench System is certified to the stringent ergonomic requirements laid down by the committee of experts at the Campaign for Healthy Backs (AGR e.V.). That's good news for you and for sustainable preventive approaches to protecting any company's most valuable resource – its workforce.
Applications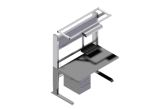 Work bench E with electrical height adjustment - Article EX-01059
Work bench E, which incorporates an electrical height-adjustment system, is ideal as an ergonomic work bench with a variety of functions.
More information
Applications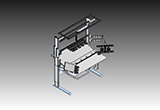 ergologistic® work bench
This work bench supports your working processes from intralogistics through to the ergonomic picking of preliminary products/materials – all based on standard semi-open fronted boxes.
More information
Applications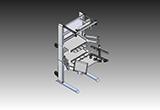 Mobile, folding work bench
This ultra-mobile work bench can be folded up to a compact size and moved around easily "on its back" using the castors.
More information
Classifications
Classifications are industry-wide product data standards that are used, among other things, to support structured processing in ERP and e-business systems. Do you need the classification data for all item products for your e-procurement system? If so, please don't hesitate to contact us.
customs tariff number
76109090