Special features:
Components that are RoHS-compliant contain no dangerous substances such as lead or cadmium. EC Directive 2002/95/EC (RoHS 1) restricts the use of certain substances in electronic devices and components. These include batteries, etc.
All substances are registered according to the REACH regulation. REACH (Registration, Evaluation, Authorisation and Restriction of Chemicals) ensures that users have accurate information on the type and properties of operating materials, lubricants, etc. that they might come into contact with.
Delivery Unit
1 pce. panel dimensions. approx. 3050x2050 mm
Weight, spec. Surface
m = 4.80 kg/m2
Accessoires / Service
Saw Cut for Panel Elements Cat. 1
Applications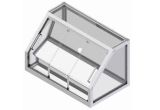 Sliding protective hood - Article EX-01025
A visually stunning highlight with extremely practical functions.
More information
Applications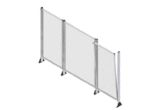 Guard E - Article EX-01062
Like all item solutions, guard E is versatile and fully compliant with the Machinery Directive. It is made of impact-resistant, 4 mm-thick polycarbonate and features Safety Hangers 8/8, meaning that users can fit it securely and easily onto vertical struts made from Clamp Profile 8 40x40 E.
More information
Classifications
Classifications are industry-wide product data standards that are used, among other things, to support structured processing in ERP and e-business systems. Do you need the classification data for all item products for your e-procurement system? If so, please don't hesitate to contact us.
customs tariff number
39206100