Tool Balancer 0.4-1 kg
0.0.631.84
View CAD-Data
Assign to comparison list
Compare products
Special features:
Components that are RoHS-compliant contain no dangerous substances such as lead or cadmium. EC Directive 2002/95/EC (RoHS 1) restricts the use of certain substances in electronic devices and components. These include batteries, etc.
All substances are registered according to the REACH regulation. REACH (Registration, Evaluation, Authorisation and Restriction of Chemicals) ensures that users have accurate information on the type and properties of operating materials, lubricants, etc. that they might come into contact with.
Out of the way but standing by: item Tool Balancers ensure tools are in easy reach for employees. When not required, the Tool Balancer automatically removes the tool from the immediate working area. An adjustable stop allows users to tailor the default height of the device to their needs. Precisely adjustable retraction force takes considerable strain off staff when working with heavy tools. An arrester mechanism is also integrated as standard.
Tool Balancers are available for 0.4 to 14 kg and should be selected according to the weight of the tools involved.
Downloads
Assembly instruction
(206 KB)
Applications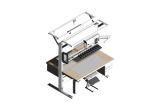 Double assembly work bench - Article EX-01056
Two height-adjustable table elements with accessories for production work.
More information
Classifications
Classifications are industry-wide product data standards that are used, among other things, to support structured processing in ERP and e-business systems. Do you need the classification data for all item products for your e-procurement system? If so, please don't hesitate to contact us.
customs tariff number
84251900