Special features:
Components that are RoHS-compliant contain no dangerous substances such as lead or cadmium. EC Directive 2002/95/EC (RoHS 1) restricts the use of certain substances in electronic devices and components. These include batteries, etc.
All substances are registered according to the REACH regulation. REACH (Registration, Evaluation, Authorisation and Restriction of Chemicals) ensures that users have accurate information on the type and properties of operating materials, lubricants, etc. that they might come into contact with.
These components are protected against electrostatic discharge. Static discharges can damage electrical components. ESD-safe components safely dissipate differences in potential.
Videos
item Work Bench Systems New Products Autumn 2012
The Work Bench System from item can now make your production operations even more productive. Our latest products bring tools closer to hand and enable users to position working materials where it suits them best. The new compact SystemMobile S can also be manoeuvred with exceptional ease in the tightest of spaces.
item SystemMobiles
The best organisers are extremely flexible. Exactly like the new item SystemMobiles. These new products combine a lightweight solution with exceptional carrying capacity and an optimised chassis. They are the ideal solution for getting materials and workpieces where they are needed fast. The customisable design principles of these transport trolleys mean they can be adapted to all working processes, thereby helping to improve the speed and flexibility of production systems.
Applications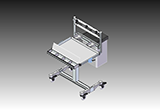 Highly mobile work trolley
Light, manoeuvrable and fully equipped: The flexible work trolley for jobs that move from place to place.
More information
Classifications
Classifications are industry-wide product data standards that are used, among other things, to support structured processing in ERP and e-business systems. Do you need the classification data for all item products for your e-procurement system? If so, please don't hesitate to contact us.
customs tariff number
76042100