Special features:
item products are based on different modular dimensions and their associated system grooves. Profiles from Lines 5, 6, 8, 10 and 12 each need corresponding sizes of fasteners. The profiles in Line X feature a Line 8 system groove but have a particularly flat surface with minimum curve radii that make them ideal for building sealed constructions.
Components that are RoHS-compliant contain no dangerous substances such as lead or cadmium. EC Directive 2002/95/EC (RoHS 1) restricts the use of certain substances in electronic devices and components. These include batteries, etc.
All substances are registered according to the REACH regulation. REACH (Registration, Evaluation, Authorisation and Restriction of Chemicals) ensures that users have accurate information on the type and properties of operating materials, lubricants, etc. that they might come into contact with.
Delivery Unit
1 pce., length 3000 mm
Cross-sectional area
A = 4.3 cm2
Moment of Inertia, x-axis
Ix = 2.99 cm4
Moment of Inertia, y-axis
Iy = 3.06 cm4
Moment of Inertia, torsional
It = 0.82 cm4
Resistance Moment, x-axis
Wx = 1.98 cm3
Resistance Moment, y-axis
Wy = 2.05 cm3
Weight, spec. Length
m = 1.16 kg/m
Accessoires / Service
Saw Cut for Small Cross-Sections
Downloads
Assembly instruction
(612 KB)
Applications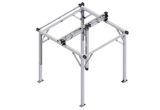 Heavy-duty three-axis handling - Article EX-01022
Heavy-duty, three-axis handling with precisely coordinated drives.
More information
Classifications
Classifications are industry-wide product data standards that are used, among other things, to support structured processing in ERP and e-business systems. Do you need the classification data for all item products for your e-procurement system? If so, please don't hesitate to contact us.
customs tariff number
76042100