Container Profile 8 80x40, natural
0.0.643.37
Assign to comparison list
Compare products
Special features:
item products are based on different modular dimensions and their associated system grooves. Profiles from Lines 5, 6, 8, 10 and 12 each need corresponding sizes of fasteners. The profiles in Line X feature a Line 8 system groove but have a particularly flat surface with minimum curve radii that make them ideal for building sealed constructions.
Components that are RoHS-compliant contain no dangerous substances such as lead or cadmium. EC Directive 2002/95/EC (RoHS 1) restricts the use of certain substances in electronic devices and components. These include batteries, etc.
All substances are registered according to the REACH regulation. REACH (Registration, Evaluation, Authorisation and Restriction of Chemicals) ensures that users have accurate information on the type and properties of operating materials, lubricants, etc. that they might come into contact with.
Line
Work Bench System
line 8
Delivery Unit
1 pce., length 6000 mm
Cross-sectional area
A = 8.32 cm2
Weight, spec. Length
m = 2.25 kg/m
Moment of Inertia, x-axis
Ix = 24.48 cm4
Moment of Inertia, y-axis
Iy = 16.95 cm4
Resistance Moment, x-axis
Wx = 6.54 cm3
Resistance Moment, y-axis
Wy = 8.47 cm3
Moment of Inertia, torsional
It = 1.33 cm4
Improved efficiency for manual production: Semi-open fronted boxes with mounting lugs can be hung on the practical Container Profile in no time, meaning they can also be changed over just as fast. Support ribs in two different thicknesses ensure the system is compatible with semi-open fronted boxes from a number of manufacturers. The Line 8 groove also enables users to attach tools and other accessories.
The Fastening Set for Container Profile 8 80x40 allows users to angle containers to support ergonomic picking operations. This is particularly advantageous when working with small parts or containers that are located high up and helps to reduce cycle times.
When installed in a straight vertical alignment, the Container Profile can be used from either side, such as on SystemMobiles L and T. It can also be incorporated into bespoke transport and workshop trolleys.
Accessoires / Service
Saw Cut for Small Cross-Sections
Videos
item Work Bench Systems New Products Autumn 2011
The best organisers are extremely flexible - exactly like the new item SystemMobiles. These new products combine a lightweight solution with exceptional carrying capacity and an optimised chassis. They are the ideal solution for getting materials and workpieces where they are needed fast. The customisable design principles of these transport trolleys mean they can be adapted to all working processes, thereby helping to improve the speed and flexibility of production systems.
Applications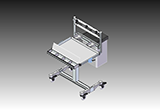 Highly mobile work trolley
Light, manoeuvrable and fully equipped: The flexible work trolley for jobs that move from place to place.
More information
Classifications
Classifications are industry-wide product data standards that are used, among other things, to support structured processing in ERP and e-business systems. Do you need the classification data for all item products for your e-procurement system? If so, please don't hesitate to contact us.
customs tariff number
76042100