Special features:
All substances are registered according to the REACH regulation. REACH (Registration, Evaluation, Authorisation and Restriction of Chemicals) ensures that users have accurate information on the type and properties of operating materials, lubricants, etc. that they might come into contact with.
Downloads
Assembly instruction
(405 KB)
Applications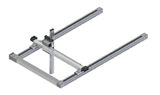 3-axis handling - Article EX-01078
item linear technology can be used to design highly accurate 3-axis handling systems. Movement along the X axis is controlled by two synchronised KLE 8. Movement along the Y axis is controlled by roller guide 8 D10 with timing-belt drive, while roller guide 8 D14 with timing-belt drive takes care of the Z axis.
More information
Classifications
Classifications are industry-wide product data standards that are used, among other things, to support structured processing in ERP and e-business systems. Do you need the classification data for all item products for your e-procurement system? If so, please don't hesitate to contact us.
customs tariff number
85365080