Special features:
Components that are RoHS-compliant contain no dangerous substances such as lead or cadmium. EC Directive 2002/95/EC (RoHS 1) restricts the use of certain substances in electronic devices and components. These include batteries, etc.
All substances are registered according to the REACH regulation. REACH (Registration, Evaluation, Authorisation and Restriction of Chemicals) ensures that users have accurate information on the type and properties of operating materials, lubricants, etc. that they might come into contact with.
Applications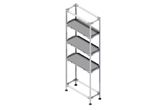 D30 bookcase - Art. no. EX-01099
This bookcase made using D30 components can be assembled easily in next to no time. Thanks to tried-and-tested item D30 fastening technology, the individual shelves can be moved in a matter of moments.
More information
Classifications
Classifications are industry-wide product data standards that are used, among other things, to support structured processing in ERP and e-business systems. Do you need the classification data for all item products for your e-procurement system? If so, please don't hesitate to contact us.
customs tariff number
73269098