Special features:
Components that are RoHS-compliant contain no dangerous substances such as lead or cadmium. EC Directive 2002/95/EC (RoHS 1) restricts the use of certain substances in electronic devices and components. These include batteries, etc.
All substances are registered according to the REACH regulation. REACH (Registration, Evaluation, Authorisation and Restriction of Chemicals) ensures that users have accurate information on the type and properties of operating materials, lubricants, etc. that they might come into contact with.
Applications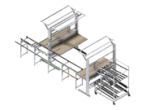 Work bench interlinking - Article EX-01080
This work bench scenario is one example of how three workstations can be interlinked using an integrated material picking rack. Production parts move rapidly along roller conveyors between work benches to precisely where they are needed.
More information
Applications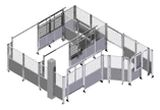 Large guard - Article EX-01087
This large guard with sliding doors, swing doors and lifting doors will fit into any hall layout, whether access requirements are for fork-lift trucks, passing materials through a lifting door or carrying out maintenance work through secured doors.
More information
Applications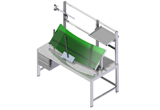 Laboratory work bench - Art. no. EX-01109
This lab work bench was developed for the inspection of windscreens. It comprises versatile Bed Plate Profiles that offer a flexible means of positioning screen fixings.
More information
Classifications
Classifications are industry-wide product data standards that are used, among other things, to support structured processing in ERP and e-business systems. Do you need the classification data for all item products for your e-procurement system? If so, please don't hesitate to contact us.
customs tariff number
40169991