Connecting Shaft VK32 R25
0.0.337.93
View CAD-Data
Assign to comparison list
Compare products
Special features:
Components that are RoHS-compliant contain no dangerous substances such as lead or cadmium. EC Directive 2002/95/EC (RoHS 1) restricts the use of certain substances in electronic devices and components. These include batteries, etc.
All substances are registered according to the REACH regulation. REACH (Registration, Evaluation, Authorisation and Restriction of Chemicals) ensures that users have accurate information on the type and properties of operating materials, lubricants, etc. that they might come into contact with.
Torque max.
Mmax. = 60 Nm
Connecting Shafts are used to provide a torsionally rigid connection between the mechanical drive elements and the corresponding Coupling Half. The Connecting Shafts are inserted into the drive elements until they come up against the stop of the Snap Ring. The clampable Coupling Half is slipped onto the free end of the shaft and clamped axially such that the length of the coupling matches the length of the Coupling Housing, and the Coupling Inserts are not under any axial load.
Applications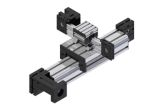 Compound slide with timing-belt drive - Article EX-01020
Compound slides from item provide precise and cost-effective dynamic solutions.
More information
Classifications
Classifications are industry-wide product data standards that are used, among other things, to support structured processing in ERP and e-business systems. Do you need the classification data for all item products for your e-procurement system? If so, please don't hesitate to contact us.
customs tariff number
84831095