Special features:
Components that are RoHS-compliant contain no dangerous substances such as lead or cadmium. EC Directive 2002/95/EC (RoHS 1) restricts the use of certain substances in electronic devices and components. These include batteries, etc.
All substances are registered according to the REACH regulation. REACH (Registration, Evaluation, Authorisation and Restriction of Chemicals) ensures that users have accurate information on the type and properties of operating materials, lubricants, etc. that they might come into contact with.
These components are protected against electrostatic discharge. Static discharges can damage electrical components. ESD-safe components safely dissipate differences in potential.
Property
bright zinc-plated
Applications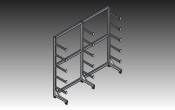 Cantilever rack - Article EX-01071
Made entirely using elements from the MB Building Kit System, this cantilever rack has been optimised for the storage of lengthy products.
More information
Applications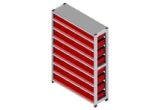 Shelving unit 8x6 - Article EX-01074
This warehouse shelving unit measures 2,000 x 1,400 x 440 mm and is a perfect example of a standard modern shelving unit designed to hold 6 x 8 containers.
More information
Applications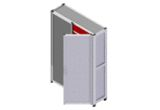 Cabinet 6x8 - Article EX-01075
The outer dimensions of this cabinet are 2,000 x 1,410 x 440 mm, sufficient for 48 containers, eight on each of the six shelves. The full-height doors, which use elegant Hinges 8 Al, make sure that every corner is in easy reach.
More information
Classifications
Classifications are industry-wide product data standards that are used, among other things, to support structured processing in ERP and e-business systems. Do you need the classification data for all item products for your e-procurement system? If so, please don't hesitate to contact us.
customs tariff number
73181568