Special features:
Components that are RoHS-compliant contain no dangerous substances such as lead or cadmium. EC Directive 2002/95/EC (RoHS 1) restricts the use of certain substances in electronic devices and components. These include batteries, etc.
All substances are registered according to the REACH regulation. REACH (Registration, Evaluation, Authorisation and Restriction of Chemicals) ensures that users have accurate information on the type and properties of operating materials, lubricants, etc. that they might come into contact with.
These components are protected against electrostatic discharge. Static discharges can damage electrical components. ESD-safe components safely dissipate differences in potential.
Delivery Unit
1 pce., length 2000 mm
Length, rated
L = 2000 mm
Cross-sectional area
A = 3.01 cm2
Moment of Inertia, x-axis
Ix = 4.51 cm4
Moment of Inertia, y-axis
Iy = 4.51 cm4
Moment of Inertia, torsional
It = 0.16 cm4
Resistance Moment, x-axis
Wx = 1.58 cm3
Resistance Moment, y-axis
Wy = 1.58 cm3
Weight, spec. Length
m = 0.81 kg/m
Applications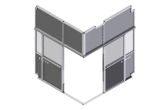 Walk-in protective enclosure - Article EX-01023
Two sliding doors positioned either side of a corner make this walk-in protective enclosure particularly convenient to use.
More information
Applications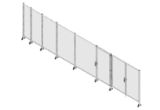 Direct Guard 40x40 E - Article EX-01070
The individual panels in Direct Guard 40x40 E made from Clamp Profile 8 Economy are screwed directly together. Stable Angle Brackets connect the Clamp Profiles and ensure the structure is exceptionally stable.
More information
Classifications
Classifications are industry-wide product data standards that are used, among other things, to support structured processing in ERP and e-business systems. Do you need the classification data for all item products for your e-procurement system? If so, please don't hesitate to contact us.
customs tariff number
76042990