Linear Units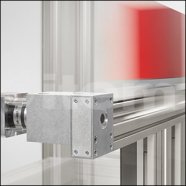 Ready-to-install Linear Units from item.

The item Automation System offers 25 ready-to-install Linear Units for a wide range of applications. Which technology is most suitable will depend on what you want to use it for. To help you track down your ideal solution faster, we've defined search criteria that we feel are most relevant to the fundamental basic requirements in industry. You can also make your selection using the practical, user-friendly and interactive item Linear Technology Product Finder, which offers a range of selection criteria to choose from. Certain parameters overlap to some degree, such as payload and maximum travel distance. Details on factors such as profile deflection, etc. can be found directly alongside a product.
item MotionDesigner®
The favorites mode is enabled. There were no selected Favorites!
More sub-categories: