Automation System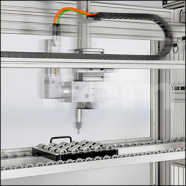 Always the right solution.
The item Automation System is a comprehensive turnkey solution for linear technology. It comprises ready-to-install Linear Units that are delivered with drive elements, slides and accessories included. Install and go – automation really can be that easy.
Because every project has very specific requirements, item offers a wide range of different Linear Units. All are based on the same principle – carefully coordinated solutions that can be configured to suit your requirements. That gives you the freedom you need to develop the ideal technical design.
Save time and money.
The item Automation System helps you save time and money twice over.
Firstly, you can find the ideal Linear Unit faster. All the relevant information is clear and summarised in a way that makes it easy to compare the pros and cons of different Linear Units. This helps you lower your purchasing costs significantly.
Secondly, you do not need to assemble individual components to build your Linear Unit. Instead, you take delivery of a completed turnkey solution that can be put to use in record time. This helps you keep your operating costs down.
Perfect connection.
Linear Units from item can be run on any motor you like. Strong couplings ensure forces are transmitted directly to the Linear Unit, even over long-term usage. item drive elements give you the freedom to find precisely the solution you need. If you need to link together parallel Linear Units to form one functional unit, item synchronous drives are the best solution.
item MotionDesigner®
The favorites mode is enabled. There were no selected Favorites!
More sub-categories: