New Products 2014/II (Autumn)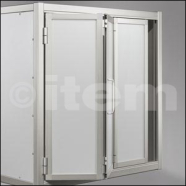 MB Building Kit System
When using the new item Hinges, you will be able to build perfect doors, windows and hatches for machine bases like never before. You can even design secure doors with continuous hinge strips that cover the entire door gap. The relevant bolts are supplied with the new robust Hinge Leaf Profile V 8 z 18.
Alternatively, you can design flexible folding doors that offer a space-saving solution for opening up wide spaces. Thanks to the new Folding-Door Hinge Al, the narrow Clamp Profile 8 32x18 and Sliding-Door Guide Profile 8, you can construct easy-running doors with elements that fold up in a concertina formation when opened.
The favorites mode is enabled. There were no selected Favorites!