Container Support E 1200 F
0.0.650.35
View CAD-Data
Assign to comparison list
Compare products
Special features:
Components that are RoHS-compliant contain no dangerous substances such as lead or cadmium. EC Directive 2002/95/EC (RoHS 1) restricts the use of certain substances in electronic devices and components. These include batteries, etc.
All substances are registered according to the REACH regulation. REACH (Registration, Evaluation, Authorisation and Restriction of Chemicals) ensures that users have accurate information on the type and properties of operating materials, lubricants, etc. that they might come into contact with.
Container Profile 8 80x40, Al, anodized
4 Automatic-Fastening Sets 8
2 Automatic-Fastening Set Caps, PA-GF, grey
The Container Support is the simplest way of fitting Parts Containers to a preconfigured work bench. The Container Profile has a lip that is compatible with all standard semi-open fronted boxes with mounting lugs. The ergonomic 7° or 15° inclination of the support makes it easy to remove small parts and keep an overview of the material in the containers. The Container Support is fastened to the vertical struts of the Upright either at a fixed right-angle (F) or at a variable angle (A).
Several material levels can be set up at a work bench by installing more than one Container Support.
Videos
item Work Bench Systems New Products Autumn 2012
The Work Bench System from item can now make your production operations even more productive. Our latest products bring tools closer to hand and enable users to position working materials where it suits them best. The new compact SystemMobile S can also be manoeuvred with exceptional ease in the tightest of spaces.
Applications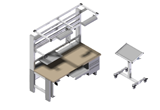 Work bench 4 E with Upright and Compound Slide Overhang - Art. no. EX-01107
This design combines a work bench featuring an electrical height-adjustment system with a material trolley that is also height adjustable.
More information
Classifications
Classifications are industry-wide product data standards that are used, among other things, to support structured processing in ERP and e-business systems. Do you need the classification data for all item products for your e-procurement system? If so, please don't hesitate to contact us.
customs tariff number
84879090