Tube Protector D30 Fixing Clip, grey
0.0.654.04
View CAD-Data
Assign to comparison list
Compare products
Special features:
item products are based on different modular dimensions and their associated system grooves. Profiles from Lines 5, 6, 8, 10 and 12 each need corresponding sizes of fasteners. The profiles in Line X feature a Line 8 system groove but have a particularly flat surface with minimum curve radii that make them ideal for building sealed constructions.
Components that are RoHS-compliant contain no dangerous substances such as lead or cadmium. EC Directive 2002/95/EC (RoHS 1) restricts the use of certain substances in electronic devices and components. These include batteries, etc.
All substances are registered according to the REACH regulation. REACH (Registration, Evaluation, Authorisation and Restriction of Chemicals) ensures that users have accurate information on the type and properties of operating materials, lubricants, etc. that they might come into contact with.
Safe and sound. The Fixing Clip holds Tube Protector D30 together when users have had to split it open for installation purposes (for example when Tube Protector has to be retrofitted to an existing frame structure). It's the Fixing Clip that will hold it together after installation.
Unlike adhesive strips, the clip can be removed without leaving any traces behind. The clip presses the cut edges together, thereby restoring all-round protection for the tube. The clip can also be removed very easily, which is important if additional Fasteners need to be installed.
Applications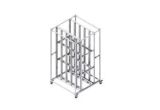 D30 material trolley with Tube Protector - Article EX-01084
Because it safely cushions any impact, this material trolley made from D30 Profile Tubes is ideal for transporting delicate products. All the Profile Tubes that might come into contact with the goods are covered with Tube Protector.
More information
Classifications
Classifications are industry-wide product data standards that are used, among other things, to support structured processing in ERP and e-business systems. Do you need the classification data for all item products for your e-procurement system? If so, please don't hesitate to contact us.
customs tariff number
39269097