Container Profile 8 80x40, natural
Art. No.: 0.0.643.38
Properties

Line

=

Work Bench System
line 8

Material

=

Al, anodized

Property

=

natural

Delivery Unit

=

cut-off max. 6000 mm

Cross-sectional area

A

=

8.32 cm2

Weight, spec. Length

m

=

2.25 kg/m

Moment of Inertia, x-axis

Ix

=

24.48 cm4

Moment of Inertia, y-axis

Iy

=

16.95 cm4

Resistance Moment, x-axis

Wx

=

6.54 cm3

Resistance Moment, y-axis

Wy

=

8.47 cm3

Moment of Inertia, torsional

It

=

1.33 cm4
Accessories for Container Profile 8 80x40, natural
Video

Title / Content

Size

Format

Download

item Work Bench Systems New Products Autumn 2011

The best organisers are extremely flexible - exactly like the new item SystemMobiles.

29 MB

MPEG4

item New Products Autumn 2011

Ergonomic work bench systems, the new Line D30 and innovative enhancements for the MB Building Kit System.

33 MB

MPEG4
Image

Description

Files

Highly mobile work trolley

Light, manoeuvrable and fully equipped: The flexible work trolley for jobs that move from place to place.



read more

Log in

PDF CAD Parts list Drawing
Classifications are industry-wide product data standards that are used, among other things, to support structured processing in ERP and e-business systems. Do you need the classification data for all item products for your e-procurement system? If so, please don't hesitate to contact us.
| | |
| --- | --- |
| eCl@ss 4.0 | 21100201 |
| eCl@ss 4.1 | 21100201 |
| eCl@ss 5.0 | 21100201 |
| eCl@ss 5.1 | 21100201 |
| eCl@ss 6.0.1 | 21100290 |
| eCl@ss 7.1 | 21100290 |
| UNSPSC 7.0 | 56111902 |
| UNSPSC 9.0 | 56111902 |
| customs tariff number | 76042100 |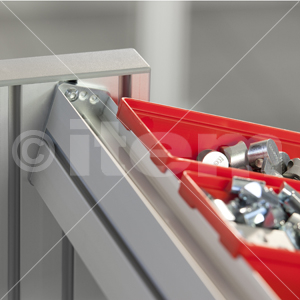 Improved efficiency for manual production – the practical Container Support ensures materials are always within easy reach. Semi-open fronted storage boxes with mounting lugs are easily suspended on the Container Support and can be switched around just as quickly. Support ribs in two different thicknesses ensure the system is compatible with semi-open fronted boxes from a number of manufacturers. The item Container Support can be used on both sides, which is particularly useful when, for example, SystemMobiles are placed in between two work stations. The Profile 8 groove on the support profile also enables users to attach tools and other accessories. The Container Support is electrostatically dissipative.
The Container Support is fastened to the vertical strut of the SystemMobile either at a fixed right-angle (F) or at a variable angle (A). The fastening can by inclined by up to 15° to ensure storage boxes are aligned for optimum ease of handling. This is particularly advantageous when working with small parts or boxes that are located high up and helps to reduce cycle times. Moreover, personnel benefit from a more ergonomic working environment.
The Container Support can be used in SystemMobiles L and T. It is available in complete sets and as individual components for retrofitting.