Display Panel PP, red
0.0.636.77
View CAD-Data
Assign to comparison list
Compare products
Special features:
Components that are RoHS-compliant contain no dangerous substances such as lead or cadmium. EC Directive 2002/95/EC (RoHS 1) restricts the use of certain substances in electronic devices and components. These include batteries, etc.
All substances are registered according to the REACH regulation. REACH (Registration, Evaluation, Authorisation and Restriction of Chemicals) ensures that users have accurate information on the type and properties of operating materials, lubricants, etc. that they might come into contact with.
The item Display Panel system ensures that safety instructions and working plans are clearly positioned and always in view at any work bench!
Simply fit the Display Panel Holder to vertical profiles and add hard-wearing black or red polypropylene (PP) Display Panels as required.
Being transparent on both sides, each panel can hold two A4 documents.
Videos
item work bench systems - New Products Autumn 2010
The new item work bench system - work benches for assembly, maintenance, repair and testing systems. item has been designing customised working environments and work benches since it first developed the MB Building Kit System 30 years ago. This extensive know-how has resulted in a wide-ranging standard portfolio for work benches.
Applications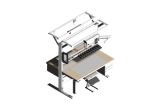 Double assembly work bench - Article EX-01056
Two height-adjustable table elements with accessories for production work.
More information
Applications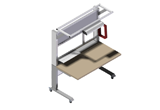 Work bench E - Art. no. EX-01092
Work bench E is an example of a movable work bench with an electrical height-adjustment system. This version has a wide notice board and a versatile document holder.
More information
Classifications
Classifications are industry-wide product data standards that are used, among other things, to support structured processing in ERP and e-business systems. Do you need the classification data for all item products for your e-procurement system? If so, please don't hesitate to contact us.
customs tariff number
39261000